A CHICAGO FIREHOUSE:
STORIES OF WRIGLEYVILLE'S
ENGINE 78
By Karen Kruse
Foreword by: Mike Ditka
Preface by: Retired Chicago Fire Commissioner James T. Joyce
A Chicago Firehouse: Stories of Wrigleyville's Engine 78 is the story of Chicago's firehouse across from Wrigley Field (home of the World Series Champion Chicago Cubs! ), and the diverse neighborhood she serves.

My opening paragraph reads: "Once upon a time is the way all good fairy tales begin, but this particular tale is true. It is the story of an American firehouse, the firemen who love her, and the area she serves. The knights on white horses in this epic are actual heroes riding a bright red fire engine when help is needed. This is the story of Engine Co. 78."

Back cover of the book: From its humble beginnings in 1884 as a one-story frame building with one bay to house Hose Co. 4 and its team of horses, Eng. Co. 78 has been the firefighting sentinel at the end of Waveland Avenue, sitting in the shadow of Wrigley Field. Using vintage photographs and moving stories from firefighters themselves, Karen Kruse captures the spirit and heroism of this historic Chicago landmark.

Capt. Robert F. Kruse served the Chicago Fire Dept. for 30 years, half of those at Wrigleyville's Eng. 78. Growing up within the close-knit firefighting community, Ms. Kruse records the dramatic and touching stories from her father's and his peers' experiences, and combines them in this volume exploring the unique history of Lakeview's firehouse, including a foreword by Mike Ditka, and preface by Fire Commissioner James Joyce. With details about little known historic districts and a brief guide to Chicago's cemeteries and their relations to firefighters, A Chicago Firehouse: Stories of Wrigleyville's Engine 78 relays in first-hand accounts some of Chicago's most fiery tragedies, the brave men who battled them, and the diversity of the neighborhood that housed them.

Author Karen Kruse, a descendant of three generations of Chicago firefighters, is a member of Mensa and the author of several articles on Chicago cemeteries.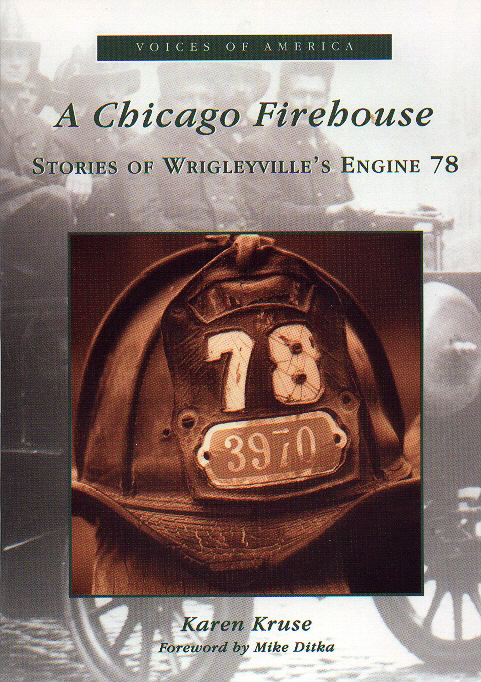 A Chicago Firehouse: Stories of Wrigleyville's Engine 78, ISBN #0-7385-1857-3, is in its 16th printing !!!

SPECIAL NOTE: My beloved dad, Robert F. Kruse, subject of my book, passed away Easter Sunday, April 24, 2011. Dad, I'm proud to have honored you by writing this book, my finest achievement. I'll see you on the other side. My everlasting and eternal love, KK.


If you would like to purchase a personally autographed copy of my "labor of love" directly from me (the author), by check for $24.95 ppd., please drop me a note for address details:





... or buy a personally autographed copy, directly from me (the author), for $24.95 ppd. NOW, via credit card or through PayPal.

Fill in the fields below before clicking the PayPal Buy Now logo to indicate if the book is for a firefighter (they receive my special message) and their name! Use the PayPal Buy Now button for either credit card or PayPal payments. Please note: This price is for US shipping ONLY! If you would like a book shipped to another country, please e-mail me for proper cost. Thank you.

Please note! If you require more than one copy of the book, you must individually order EACH copy through this website, one at a time, paying the full shipping charge on each, or contact me directly to save money using other purchasing options. The more books you buy (shipped to one address), the cheaper your shipping! Ten or more books, sent to one address, priced at only $20 each - NO SHIPPING CHARGES! Please e-mail me directly for details.

Also feel free to e-mail me regarding international shipping rates!

You may also order directly through these .com retailers, or your local bookstore, but it won't be personally autographed.



Barnes & Noble
Books-A-Million




Amazon

Powell's



Search for "A Chicago Firehouse" here:

Firefighter's Bookstore


To contact me, the author directly, click here:


A Chicago Firehouse: Stories of Wrigleyville's Engine 78


...is a tribute to ALL firefighters everywhere!


It makes a great gift for every firefighter on your list!


A MUST have for EVERY Cubs fan!


Nominated for the Pulitzer Prize in History!



For more information, click on the links below!

Scheduled Appearances & Awards
Articles from the Daily Herald, the Courier News, the News-Star, and the Booster
Foreword, Preface, and Table of Contents
Karen Kruse, Writing Biography

New Counter! Visitors since September 23, 2006


Upcoming Appearances!


Links!

Reviews!

Daily Herald!

Times!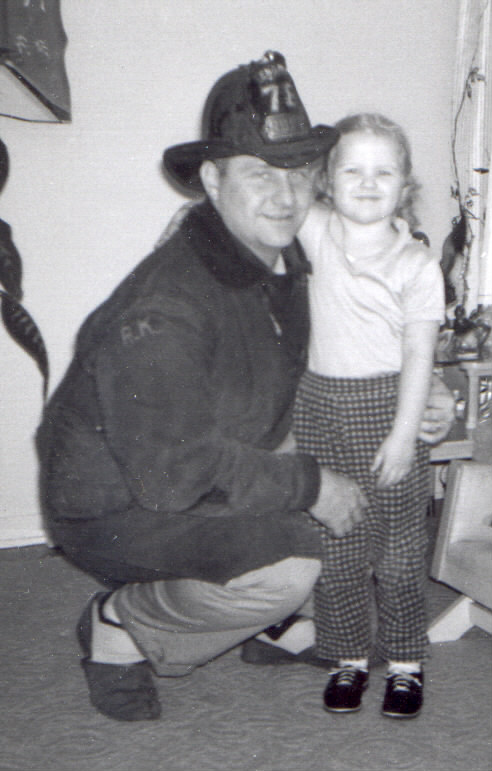 "Daddy is My Hero"
The author with her Dad, April, 1963, and again, December, 2005.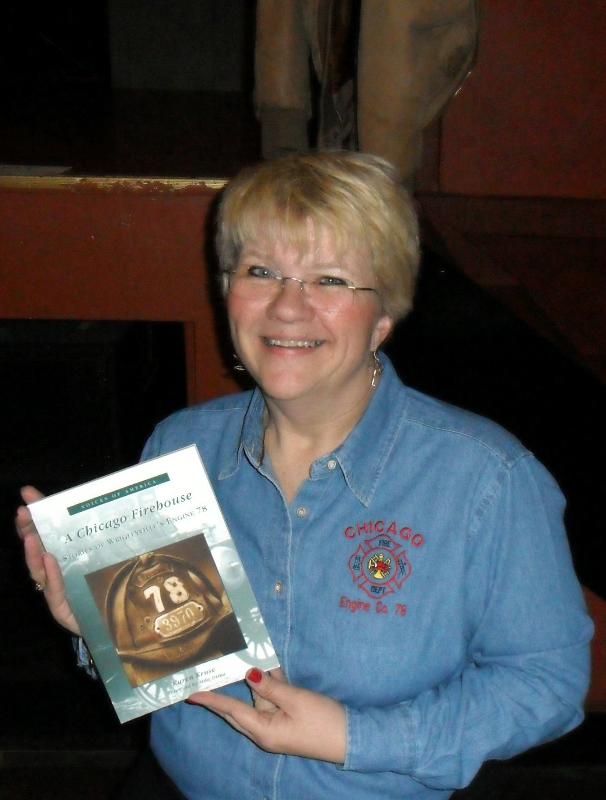 "Karen Kruse, author, September 22, 2007, and again March 5, 2011."
Copyright 2001-2011
Karen L. Kruse. All rights reserved.